15 in stock
Regular price
Sale price
$10.95
Unit price
per
Sale
Sold out
Share Us With Your Friends❣️
Flavor DIY Loaded Tea Recipes at Home with this RASPBERRY BLUSH 😊 Sugar Free Drink Mix by GramZero®.
This loaded tea flavor mix is sweetened with🌱 Organic Stevia ONLY and also serves as a delicious Low Carb Drink Alternative and it's a Keto Friendly Drink.
There are so many loaded tea flavors available, but this is our favorite not only because there are no artificial sweeteners and it tastes great, but one 4.5 Oz pouch has 80 servings 🎉 which makes this a great deal!
About this 4.5 Ounce Pouch of GramZero® Sugar Free Drink Mix:
Very Low Calories; Zero Sugar; Zero Artificial Sweeteners
Sweetened with Organic Stevia; No Funky Aftertaste
Used by Herbalife Nutrition Clubs in Loaded Tea Recipes
Low Carb & Keto Friendly; Kosher
80 Servings / Package
Made in the USA 🇺🇸
Instructions for Loaded Teas:

Instructions For Loaded Tea Flavors: Use as directed by the Loaded Tea Recipe. Generally 1/4 tsp (1.6g) per 4 Oz water.
Instructions for Drink Mix:

Instructions For Sugar Free Drinks: Add a rounded 1/4 teaspoon (1.6g) of this Sugar Free Drink Mix to 1 Cup (8 fl oz) of water and stir until dissolved. As a sugar free drink mix, this 4.5 ounce pouch makes approximately 5 Gallons or 80 - 8 ounce servings.

NOTE: Blend this sugar free drink mix only as directed for best flavor. Adding more mix than instructed will not increase flavor, but can add bitterness as organic stevia leaf extract is highly concentrated.
Ingredients:

Raspberry Blush: Gum Acacia, Citric Acid, Natural & Artificial Flavors, Ascorbic Acid (Vitamin C), Organic Stevia, Calcium Carbonate, Sodium Bicarbonate, Sodium Citrate, Red 40, Blue 1, Silicon Dioxide
Keto-Friendly Notes:

*This product contains NO maltodextrin or artificial sweeteners and can be used to make keto-friendly drinks and to flavor keto energy drinks.
View full details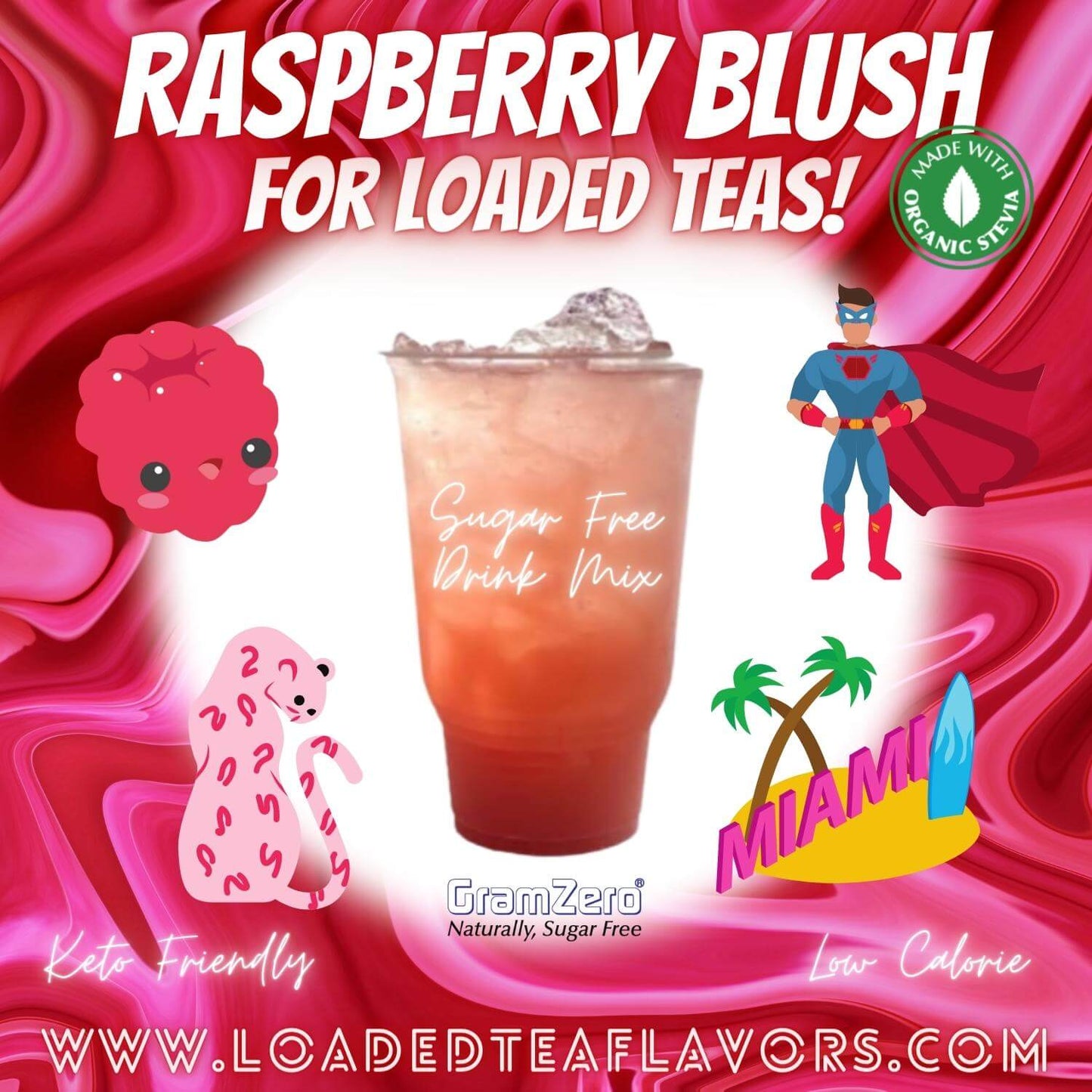 Drink Mixes = Tea Flavorings
GramZero Drink Mixes are exactly that, "Drink Mixes". They are used to naturally flavor and sweeten Loaded Teas and other beverages, including water. They do not have caffeine, nor are they a tea. 😉✨
How to Make Loaded Teas: There are 3 Must-Have loaded tea ingredient components to make a 🥤 Loaded Tea: 1) herbal tea concentrate; 2) 💥 energy mix; and 3) sugar free drink mixes 🌈
Please fill out our CONTACT FORM if you would like more information on how to purchase the herbal tea concentrates and 💥 energy component products.
Rasspberry blush
This flavor is samething like crystal light for the price. It's not my favorite flavor.
GramZero, Naturally Sugar Free!
GramZero is family owned and operated out of Amsterdam, NY❣️ On a mission to provide easy to use and great tasting Sugar Free products for healthier living.
We use GramZero due to allergy issues and their products seriously taste great! Visit them for sugar-free Pudding, Cake & Gelatin Mixes to make DIY meal replacement shakes & sugar-free desserts!